Our Team
To provide our clients easy access to the broadest array of products and services in the industry. Deploying differentiated services with value-based pricing models are the key components of our vision and service strategy. Specialising in accounting, finance and transaction processing, our team of highly qualified and dedicated professional to ensure the quality of business delivered to client.
Management Team
Mohanakrishnan Thavamani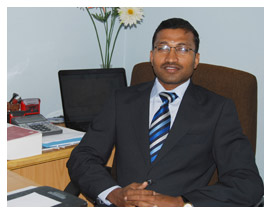 Managing Director of the company, he is a fellow member of the Botswana Institute of Accountants(BIA) and an associate of Institute of Chartered Accountants of India (ICAI). A young and dynamic personality with zest for perfection, he has worked with some big multinational institutions in India and Botswana. he brings decades of diverse experience and a history of success to the company. Combining business acumen with technical savvy, he guide success in his career.
He can be reached at : mohan@sigmaaccount.com or +267 71527245